Marinda Wu Partners for Progress and Prosperity Award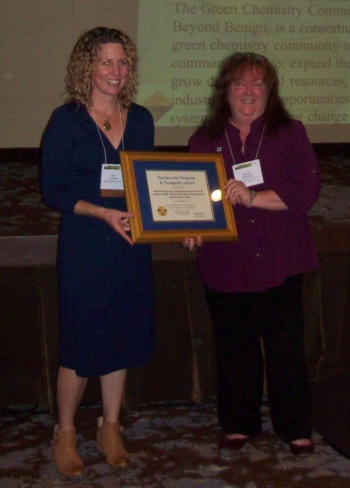 Purpose: To recognize and encourage successful and exemplary partnerships.
Nature and Establishment: This award was instituted in 2014 by a contribution from Marinda Li Wu out of her Immediate Past ACS President's budget as part of her presidential initiatives to promote partnering for progress and prosperity. It is Dr. Wu's hope that this will be an ongoing award to recognize the importance of partnering and working together towards common goals to advance the global chemistry enterprise.
Award: The award will consist of a Partners for Progress and Prosperity silver/gold medallion plus a framed certificate of recognition (one for each Partner representing an entity or organization) plus up to $1,000 grant split equally between the partners to further the activities for which the award is made.
Rules of Eligibility: A nominee may represent academia, industry, government, small business or other organizations such as a Local Section. Partnerships can include international ACS chapters, ACS divisions, or other entities domestic or overseas. The awards committee of the ACS Regional Meeting Board will select the regional P3 Award winners. The regional awardees will then become nominees for the Global P3 Award to be selected by the International Activities Committee of the National ACS. DEADLINE: August 15, 2016
Directions: Any individual, except a member of the award selection committee, may nominate or support only one nominee package for this award in any given year. Please complete all fields.
Submittal process: Submit the nomination form and no more than 3 letters of support by the deadline of August 15, 2016 to Award Chair via e-mail attachment
Awards Chair email address: Willem Leenstra (willem.leenstra_AT_uvm.edu)