The E. Ann Nalley Regional Award for Volunteer Service to the American Chemical Society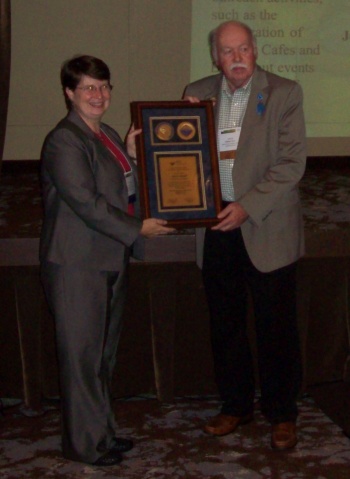 This award recognizes an ACS member who has contributed significantly to ACS activities in their region. For more information see this ACS web page.
Purpose
To recognize the volunteer efforts of individuals who have served the American Chemical Society, contributing significantly to the goals and objectives of the Society through their regional activities.
Establishment & Support
This award was instituted in 2006 by ACS Past President E. Ann Nalley as part of her presidential initiative to recognize ACS volunteerism. It is Dr. Nalley's wish that the award continue in perpetuity at each regional meeting.
Rules of eligibility
Eligibility: A nominee must be a member of the American Chemical Society residing in a local section within the region, and will have made significant contributions to their region of the American Chemical Society. The volunteerism to be recognized may include a variety of activities, including but not limited to the initiation or sponsorship of a singular endeavor or exemplary leadership in the region. Past and present members of the ACS Board of Directors and staff are ineligible for this award. The awards committee of the region, or its equivalent, will select the recipient.
Selection of recipient
Nominations will be solicited from each Local Section within the Northeast Region, The Northeast Region Awards Committee will select the recipient. Individuals may also nominate members on their own, as long as the proper paperwork accompanies such nominations and the criteria mentioned above is met. The Region Awards Committee will select the recipient and help the Organizing Committee with arranging for an ACS leader to present the award at an appropriate event during the ACS Regional Meeting. The Region Awards Committee will handle deadlines and communications, with deadlines being appropriate to the timing of the Regional Meeting. In a year when no Regional Meeting is scheduled, the award will join the following year's award in being presented at the following Regional Meeting.
2016 Award Winner
Jack Driscoll has been heavily involved in organizing and promoting STEM outreach activities on Cape Cod, such as science cafes. He was also appointed to the National Committee on Environmental Improvement, and has contributed to the programs to the Division of Small Chemical Business at both national and regional meetings.
Past award winners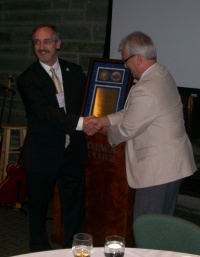 2015   Wayne Jones (Binghamton University)